MLTAV Conference 2022 - Reconnecting and Reimagining: The future of Languages education
The MLTAV Annual Conference on Friday 2 December 2022 celebrated 75 years of supporting quality teaching of Languages. Click on the presentation titles below to view the presentations that have been made publicly available.
Don't miss out on the 2023 Annual Conference: join or renew your MLTAV membership now to get the full benefit of advanced notice and member discounts to all our professional learning events in 2023.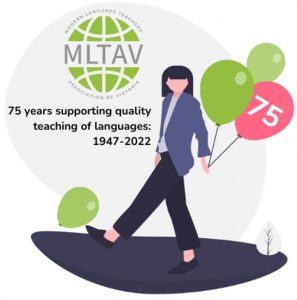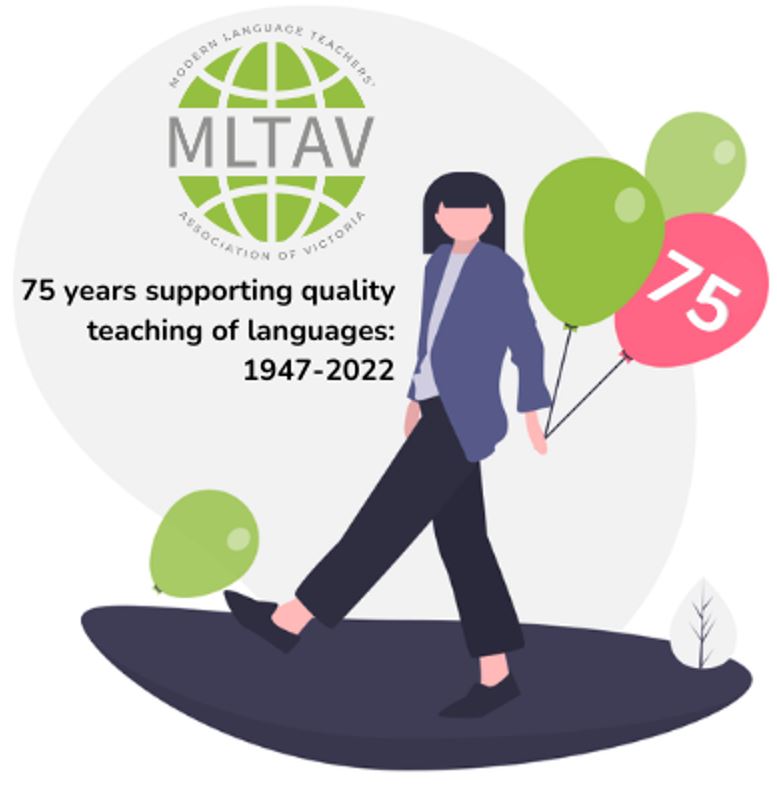 Scroll down below the program to see detailed overviews for each session. 
Session 1 workshops - 10:30am
Tony Vallance:
Covering a large range of practical, hands-on techniques to be used in the classroom, this
workshop is designed to ignite your creative passion as a teacher. It will show you how
language education can be used in a cross-curricular setting and be leveraged with contextual application and student centered design to grow its footprint in your school setting.
Stanley Wang:
In many schools, global engagement is typically synonymous with sister school arrangements and study tours organised by the Languages teachers. Unfortunately, the challenges brought upon us by the global pandemic proved neither format robust and viable in an era of great uncertainty and restrictive travel. At Abbotsford Primary School, a Chinese/English bilingual school, we used the opportunity to re-conceptualise global engagement and leveraged the 'remoteness' and 'isolation' as an opportunity for building connectedness with a range of schools abroad. Over the last two years, the school has experimented with various approaches to include students, staff, school leadership and even the school community under the Global Engagement Strategy. In this session, I will be showcasing a range of initiatives, strategies and program designs we have tried with the various stakeholders in mind. The aim is to inspire more schools to reimagine what global engagement can look like and diversify the kind of global experiences we are able to offer to students, as well as other stakeholders in a school environment.
Elio Guarnuccio – Lingopont (Commercial member presentation):
As technology provides new methods of encouraging student-centred learning, it is important not to abandon the best of traditional language learning tools. For well proven reasons, music and songs have always been a part of language learning. In this session, Elio discusses the role of music and songs in language acquisition as well as ways of integrating them into the current teaching environment. Practical examples will be presented with the opportunity for participation and exchange of ideas
Maria Dikaiou & Anne Fisher:
This is specifically for teachers of the following languages that are developed using the Collaborative Curriculum and Assessment Framework for Languages (CCAFL): Armenian, Bengali, Bosnian, Chin Hakha, Croatian, Dutch, Filipino, Hebrew, Hindi, Hungarian, Karen, Khmer, Macedonian, Persian, Polish, Portuguese, Punjabi, Romanian, Russian, Serbian, Sinhala, Swedish, Tamil, Turkish, Yiddish.
This presentation provides teachers with
an overview and information that can be used to plan teaching and learning programs and to develop assessment tasks for Units 1-4.

an update on what is happening with the National CCAFL Framework Renewal Project
Participants are encouraged to have a copy of their study design with them.
Nathalie Marchand & Sarah Pavy: 
Teaching Languages often means teaching a wide variety of levels in one classroom and differentiating effectively can be a real challenge. This session will explore the benefits of putting in place a progression-based student-centred approach. You will discover how such an approach can support you in your effort to provide students with more personalised lessons, support their growth while giving them a sense of achievement, agency and boost their motivation through practical and trialled examples. This session will bring to light how easily you can implement a skill progressions approach and reduce your own workload while implementing relevant and meaningful differentiation, enabling students to take ownership of their own learning and actively and cognitively engaging them in the feedback process.
Session 2 workshops - 11:15am
AFMLTA: Sherryl Saunders, Andrew Scrimgeour, Anne-Marie Morgan, Kylie Farmer
This paper presents findings from the research undertaken as part of the project to develop a National Plan and Strategy for Languages Education in Australia, commissioned by the Australian Government. We link the findings to suggested outcomes for Languages Education policy planning at a national level, with resonance for Australian states and territories, including Victoria. We connect findings from data collection, stakeholder engagement and deep analysis to suggested goals and actions. Possibilities for policy and practice are also provided, including a model for languages education; for provision of high-quality programs; and for initial teacher education.
Isabel Fernandez:
I intend to share some tricks and tools that can be used both in the Languages classroom and by Classroom teachers to help increase the frequency of our language use and also give us another authentic and relevant way to interact. My goal is to achieve the elusive TRIPLE WIN situation – where a simple tool will provide WINS for students, Classroom Teachers and Language Teachers. A good example is when a short game is fun and engaging for children, then that's a WIN for students. The same game assists the Classroom Teacher to achieve an objective such as recording the attendance or breaking up the cognitive fatigue. That's our second WIN. Then lastly, this awesome game will be recycling language they've been taught by their Language teacher, taking advantage of their current learning and providing the relevant language for real-life uses. WIN #3! Playing games and engaging with their peers and the world around them is one of our student's greatest motivators. Let's be part of that!

Maud Fugier-Sola:
Re-evaluating our pedagogical mission post-Covid is at the core of our profession. Language teachers try to open students' horizon and increase their engagement by showing the relevance of languages and cultures. It is essential to add to teachers' toolboxes a variety of strategies of engagement and motivation through metacognition to teach and learn languages in 2022 and beyond. It is crucial to explore student-centred activities and opportunities while us, educators, become facilitators for active discovery. In 2022, language students must be active in their learning, know their learning style, be aware of the methodical steps needed to acquire skills and knowledge, while solving problems. One way to reach these goals is to use metacognition activities to maximise students' learning experience. Mind maps can indeed help with brainstorming and allow for faster and more efficient planning, foster metacognition through thinking routines, develop higher-order thinking skills, and trigger retrieval strategies. We will also unpack ways to use visuals and infographics to develop students' aptitude to think deeply and critically,    use strategies of memorisation, pattern recognition, analysis and synthesis (indispensable skills in 2022 and transferable to our students' professions), motivate students to grow, encourage an emotional dimension, integrate visual memory into the long-term memory, and give constructive feedback. All these approaches and strategies, coupled with an emotional dimension, will cement the experiences. Teaching and leading with warmth and enthusiasm is key to achieving great success and a high level of engagement in the language classroom.
Kylie Witt & Catherine Bryant:
This presentation will provide an overview of the features of the VCE Languages study designs. It is intended to assist teachers to design and deliver VCE programs that are in accordance with the requirements of the study designs. It will also address the importance of the five key principles that underpin the assessment of progress and achievement in the VCE; that assessment must be valid, reasonable, equitable, balanced and efficient. Catherine and Kylie will unpack these principles for teachers and explain what they mean when developing SAC tasks for VCE Languages. Catherine and Kylie will also provide a brief guide to the supporting documents that the VCAA has published for teachers. Finally, they will give a brief overview of the VCE school based assessment audit, and offer some tips to support teachers when undertaking the audit.

Carlos Franco:
This workshop will elicit participants' reflection & shared expertise on the use of learning progressions (LPS) for student-centred differentiation. We aim at observing and applying a taxonomic approach to identify cognitive demands of lesson/unit goals and create our own LPs. The conceptual references made about cognitive demands of verbs included in curriculum standards (taxonomic cognition), highly yield instructional strategies and assessment will be applicable to any curriculum and benchmarking.
Session 3 workshops - 12:00pm
AFMLTA: Anne-Marie Morgan & Gillian Cordy
This presentation reports on the performance of students with a language background other than English on the Australian National Assessment Program: Literacy and Numeracy (NAPLaN). These students, on average, outperform students from an English-speaking background in several literacy domains, and in numeracy. The contribution of additional languages knowledge to literacy development is demonstrable and we make the case that all young people would experience literacy gains from their acquisition of (an) additional language(s) in early and primary years. Furthermore, we argue that high-quality languages learning programs should count as core literacy-skill development time and not as an 'add on' in the curriculum.
Kathleen Duquemin:
In this post-lockdown environment, all teachers – Primary and Secondary – are facing a new environment within the language classroom. Students, so used to being dazzled with the ease and speed of technology, are now back in the classroom and struggling to return to our tried and tested methods of face-to-face learning. In this presentation, participants will be introduced to a hybrid model, where technology platforms and face to face teaching combine to create an engaging yet still rigorous language learning environment. It will look at tools and online platforms that work well in a classroom – such as Powerpoint, Google Slides, Classcraft, Blooket and Wordwall – and how they can be assimilated into the daily learning routine to increase engagement, support behaviour management and improve language acquisition. In addition, participants will see evidence of how this model provides a platform for students to engage in language learning outside of the classroom. Teachers need to meet their students half-way – bring them back into the classroom to learn face-to-face, but preserve those elements of the online environment that are so engaging and support their language acquisition.
Jessica Griffiths:
The presentation will give participants an overview of the process I have used to write and develop a Year 7 & 8 Spanish program using Conti's MARSEARS as the basis. I will detail the steps I have used to map the Victorian Curriculum requirements over the two years into units of work that fit within the MARSEARS cycle. The presentation will give delegates the understanding of how to apply this process to their current teaching context including how to map out a single unit or an entire year. During the presentation I will share my planning documents, vocabulary lists and further teaching materials that may be of us to teachers of language. This presentation will be evidenced through the work I have done at my current school, where I have been asked to create a new Spanish program, 2023 will be the first time two languages are delivered at the school.
Megan McLaughlin:
The MLTAV facilitates a  VCE Languages Teachers' Community of Practice (CoP). A caring, supportive group of colleagues to discuss, share ideas and promote enjoyment and success in Languages Learning at VCE. Attend this session to connect with other teachers and explore together how to manage VCE classes and workload and see how you might like to be involved in the VCE Community of Practice in 2023. 

Yiqiong Zhong:
This workshop will focus on introducing the CLIL program at Overnewton Anglican Community College Middle School and how to use gestures to facilitate Content and Langauge Integrated Learning (CLIL) teaching and learning.
Session 4 workshops - 1:30pm
Sarah Pavy:
This session will give an overview of (and insight into) the Certificate in Applied Language – a nationally recognised qualification, with a focus on everyday application of language skills both in social settings and in the workplace. In undertaking this qualification, students learn how to communicate with friends, people in the community, colleagues and employers in a range of contexts, simulating real-life situations that help them to see the links between their Languages classes and the outside world. The course has a strong focus on intercultural awareness and culturally-sensitive communication, with an emphasis on oral spontaneity and authenticity. Completing a nationally accredited course during secondary school is a tangible reward for a student's hard work throughout their years of study of a language. Teachers will have the opportunity to ask questions about any aspect of the course, including the ways in which it is similar or different to the Victorian/Australian curriculum, steps for implementation and benefits for Languages programs.
Linton Roe:
If we want students to communicate with each other in target language then we need to give them high-frequency, functional classroom language. This workshop will explore recent professional learning in this area.
Kylie Farmer, Lauren Gould & Elena Pirovano:
Literacy is a powerful lever in schools and an important skill to develop in our learners. MLTAV has launched a new collection of resources on our website to support teachers of Languages to further understand how to support development and transfer students' literacy skills through all language learning.
This session will explore the new resources available and provide teachers with practical strategies that can be used to lead literacy conversations in school with students, colleagues and leaders.
Olimpia Rosenblum:
The skill of viewing is often referred to as "the fifth skill" and has been integrated as a language mode in the Australian Curriculum. This workshop will give an overview into "visual listening", which is an approach, underpinned by visual thinking and dual coding strategies using the multimodal elements of audio+animation+captions to engage students and foster the development of fluency in L2 acquisition. The session will provide participants with an understanding of how this method can be integrated into existing language courses whether as a stand-alone elective, an extension program or both. It will include grammar ideas and present a different approach to engage students individually and as a whole class, discovering new differentiation activities, expanding speaking and listening skills. It will also provide an insight into how languages can be taught with other curriculum subjects. The session is ideal for teachers who are new to teaching languages using stories and are curious to know more but will also be full of helpful tips and strategies for teachers who already use stories. Participants will have a better understanding of how to support their students to develop the language skill of "viewing".
Jess Mikecz – Education Perfect (Commercial member presentation):
Metacognition and effective feedback go hand-in-hand, as effective feedback assists students to reflect on their learning processes and strategies so they can make adjustments to make better progress in their learning. However, giving regular and personalised feedback can also be time consuming for teachers. This session will explore giving students greater agency in the feedback process, including strategies to support students in developing metacognitive and self-reflective behaviours, and to support them in giving effective and constructive feedback to their peers. We'll also look into how the Peer Review function in Education Perfect can help teachers save time and headspace with this process, and we're more than happy to set up a free trial for teachers who don't already have access to EP so that they can try this for themselves during the session.
Session 5 workshops - 2:15pm
Sarah Pavy:
Professional learning on differentiation can often make it sound hard, time-consuming, and difficult to transfer to the Languages classroom. However, differentiation can be fun for both students and teachers with the right tools. This session will focus on simple, practical, low-preparation approaches to effective differentiation in the Languages classroom. Participants will be provided with examples of simple activities and strategies that can be applied across a variety of topic areas and grammatical concepts and adjusted to suit both primary and secondary settings. Teachers will return to classrooms with ideas that can be implemented immediately to engage students of a range of abilities and needs.
Kylie Farmer:
MLTAV has collaborated with teachers across eight languages to refresh the Department of Education and Training's Languages Passports. Draft versions of the updated Languages Journey Passports will be shared in this session. They are designed for beginning language learners from Foundation to Year 3 for Chinese, French, German, Greek Indonesian, Italian, Japanese and Spanish.  
Find out about the new features, the underpinning design principles, the language included and the new look of this resource which will be available to schools in 2023.
Jackie Robertson & Elena Pirovano:
Teaching reading includes consideration of different aspects such as code-breaking and reading for meaning that require different skills and strategies. Teaching reading in an additional language has extra challenges, not only related to the different alphabet and phonetics, but also related to the student's ability to comprehend or read for meaning when they have limited exposure to and familiarity with the language. A further challenge is how to create an immersive space (environment and culture) that enables the development of strong oral language skills and fosters a love of reading. In this presentation we share a literacy model developed for teaching reading in Italian in a bilingual school in Melbourne (Foundation-Year 2). We present the research-based approach (metodo sillabico) on which we based our program, provide some samples from our teaching practice, share our experience and suggest some general principles for consideration when developing a reading program in an additional language.
Jaclyn Curnow:
Gamification aligns with many of the High Impact Teaching Strategies (HITS). Gamification is particularly engaging for learners due to the immediate feedback and differentiation as they work with content at their level. If learners get excited about learning, they are more likely to retain information. "Baamboozle" and "Twine" What are these two words and how can they impact on the Languages curriculum? They are both technological treasures that enhance curriculum delivery, especially the HITS "Multiple Exposures" and "Structuring Lessons". There is no student sign up required for either Edutech. Student interactions can be both collaborative or independent. The programs are free and can be adapted to meet the language needs of your learners. "Twine is an open-source tool for telling interactive, nonlinear stories". Students can create quizzes and interact with pick-apath-conversations for role plays. "Baamboozle is an online-based learning platform that uses games to teach". Select a game from the community library for your students to access or create your own for them. The player/student just needs the specific Baamboozle Game URL and the fun begins. This workshop will share tips and applications for these two tech treasures.
Heather Rae:
The VSL (Victorian School of Languages) offers more than 50 languages in its 42 centres across metropolitan and country Victoria. Instruction is via face-to-face lessons at centres outside school hours and 14 languages via Distance Education. It is impossible for schools to offer all the languages represented within their school community, but the VSL supports schools to encourage students to learn their chosen language. VSL lessons help students maintain and develop their skills and knowledge in their home language and embrace their cultural heritage. VSL offers classes from Foundation through to VCE, run mainly on Saturday mornings, but also mid-week for some languages and through Distance Education. This session will outline the work of the Victorian School of Languages and how the VSL can benefit your students' learning. The presentation will include:
How schools and families should enrol in VSL lessons
The languages offered across VSL centres
Costs and eligibility for VSL classes
VSL materials
How the VSL can support your language program at your school
VSL wants to support and work alongside schools to ensure the best possible instruction of languages to school communities. The aim of this session is to help teachers and Languages Coordinators know how we can support you.